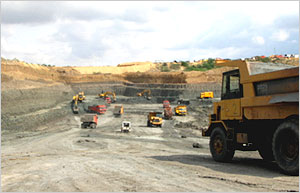 Clay Mining
Our mining practices are further diversified into
Clay
mining in Western Rajasthan, Chandi Village and Ghuda (Kolayat) Near Bikaner.
Our clay finds numerous applications in industries like wall and floor tiles, rubber, detergent cakes etc.
The clay project is under modernization and expansion with a new mining area recently commencing operations.
Contract Mining Division

Contract Mining Division The Group is undertaking contractual mining for other large mining corporations like Rajasthan State Mines and Minerals.

We have a highly qualified workforce which is able to efficiently take up contract mining operations. We own a large fleet of Mining / Construction / Earthmoving Equipment including Excavators, Dumpers, Tippers. Bachoe Loaders, Motograders, Dozers, Tractors etc. We have successfully completed various reputed contracts.

Environmental Consulatancy

In view of the global sensitization towards environmental protection and sustainable development, there has been growing interest and commitment to improve environmental management practices in different spheres of life. The Environmental Management System of an organization represents a structured approach for setting environmental objectives and targets. A commitment to compliance with applicable environmental legislation is required, along with management commitment to continual improvement. Our associate company Envirogreen Consultants (Pvt. Ltd) takes up environmental monitoring for companies.

This company also provides training to the staff of our client companies for environmental monitoring. Training is important in building internal capabilities and is a stepping stone towards success of Environmental Management system of an organization. It is of immense importance that personnel performing the tasks, which can cause significant environmental impact, shall, be competent on the basis of appropriate education & training. The basic intent of training in environmental areas is to explain the importance of environmental management system to the client companies and their employees and to update them with the procedures involved for monitoring and taking corrective action.
Some of the topics covered are as under:
Industrial environmental management

Air quality management system
Industrial water and waste management system



Foundation course on environmental auditing environmental
Awareness for managers in soapstone and marble industry


Environmental assessment, the assessment of policies, plans and programs. Waste management -
Information system and environmental management.
Public participation in environmental management.