Grinding & Packing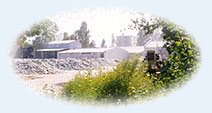 From the mines, the talc ore is brought to our grinding units in Udaipur and stored in well-managed ore-yards. The ore is washed and dried to eliminate any unwanted material adhering to it.
To maintain high quality and consistency in the end-product, the ore is again dressed and sorted by experienced and skilled manpower.
Talc is a natural mineral and requires constant vigilance and pre-processing to produce an uniform end-product. Ore received from mines is analyzed for whiteness and important elements of chemical composition from time to time.
Thereafter, the ore is blended to achieve the exact desired properties and stored in feed silo for further processing.
The blended ore is then ground to the desired particle size distribution. The talc powder is conveyed to bagging machines where it is packed and sent to the loading point.